Hello everyone!
I'm very excited to be sharing the Member Sketch Challenge with you this month, where we choose a layout by one of our fabulous members and create a sketch based off of it.

This month I chose Scrappin_in_AK's layout called "Waiting and Waiting."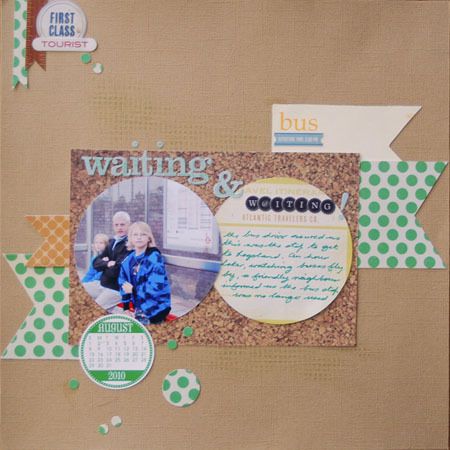 I loved the way she used a circle for a photo and the other for journaling along with the banners. I think it would be great to use as is or even make some changes to the sketch to fit more photos. Either way, it is a great design full of inspiration.

Here is the sketch I made from her layout:




I'd like to welcome our Guest Designer, the winner of last month's sketch, Sherri. Take a look at what she created for this month's sketch. Sherri says the Nook is her scrappy home on the web. She sincerely loves the women who make this place what it is, and is never at a loss for good company, honest conversation, giggles, and oodles of inspiration whenever she pops by. Sherri has been scrapping for about 7 years, and enjoys mixing product and playful elements to create projects that are vibrant with a touch of whimsy. Patterned papers, buttons, ribbon, chipboard, doilies, tags, and mists are her go to products when creating pages that reflect the little moments of her life. Sherri also adds: "A heartfelt thanks to the DT for this opportunity to join them in this month's Member Inspiration Challenge."

And here is Sherri's beautiful layout inspired by the sketch. I just love how she changed the circles to rectangles for the photo and journaling. Thank you, Sherri, for sharing your beautiful work with us!




So here is your challenge: make a creation inspired by this sketch! Upload your layout to the message board no later than Sunday, June 10th, and you just might be the one we pick for our next Member Inspiration Guest Designer. You don't need to use a Nook kit to participate and you can choose to make a card, a layout, art page, etc.

Here are more layouts by our Design Team:

By Carol

By Hilde
By Patricia


I'm excited to see what you will create and interpret the sketch, remember to upload here so we can see! Thank you!