Welcome to Happy Hour!!!
Deanna
here with you today to share one of my absolute most favorite things about the summer.
My family LOVES enjoying all the nice frosty beverages that seem to come along with the hot temps. Here in the U.S. we have a particular restaurant chain, Sonic, that not only makes fantastic slushies but they also have a happy hour from 2-4pm every day. One of our family traditions is to stop by Sonic on the way home from the pool because there's nothing like a good cold drink after spending all day in the hot sun. SO, today's challenge is based on inspiration from Sonic's slushy drinks.
Your challenge is to use your favorite summertime drink as inspiration for a layout. This could be taken from the fruit it takes to make it, the drink's label, how the drinks line up...the sky's the limit! There's only one catch. Since it IS happy hour, you must only take ONE HOUR to complete your layout start to finish! Of course because we're an international board and you have all summer to complete this challenge, you're on the honor system. I trust you. But you only have ONE HOUR to design. Hint: plan ahead. pick out your pictures, materials, etc. before you start the hour. And of course you don't have to take pics, upload and have it in the gallery within in that one hour. The timed part is only for the design process. ;) And in case you need some inspiration, I thought I'd share some of MY inspiration.Here are a few pictures to help with the inspiration.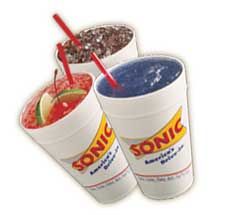 And here's my one hour layout result:
The reds, blues, yellows and greens in the June kit were a perfect color inspiration for my page. And to make my layout design come in under the time limit I used a pre-printed, pre-embellished sheet of paper. I tore the two matted papers, then mainly used stickers to wrap up my design.
Hope you enjoy this quick summer challenge! Be sure that you post your layout in
THIS thread
on the messageboard if you chose to play along!